Mohave County — At the Tri-City Council meeting held yesterday (01/19), ADOT Assistant District Engineer Todd Steinberger presented information on Mohave County ADOT projects – including the three interchange projects here in Kingman. We have attached the slides Todd presented on the three Kingman Traffic Interchange (TI) projects that are now in process. Exciting times for infrastructure development in the city of Kingman!
Below is more information from ADOT.
I-40: Rancho Santa Fe Traffic Interchange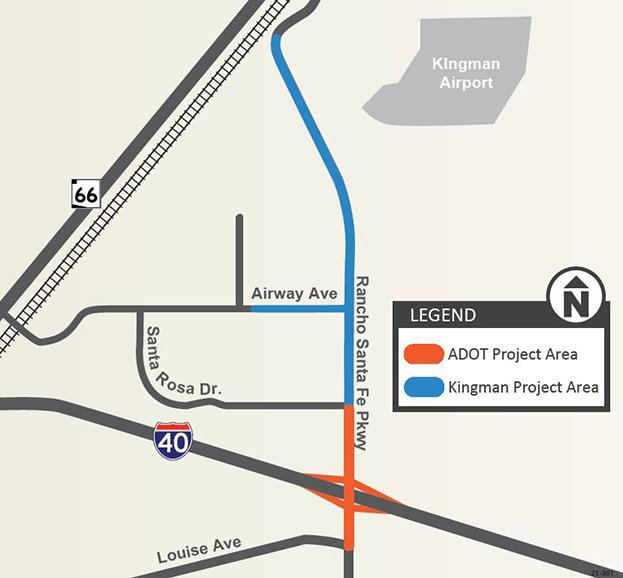 The Arizona Department of Transportation, in coordination with the city of Kingman and the Federal Highway Administration, is planning for construction of a new traffic interchange, the Rancho Santa Fe Traffic Interchange on Interstate 40 (Exit 57), in east Kingman in early 2022.
The purpose of this project is to provide access and accommodate future traffic volumes generated in the rapidly-growing east Kingman area, and to relieve congestion at the existing East Kingman interchange (Andy Devine Avenue/State Route 66, Exit 54).
Overview
Construct a new traffic interchange on I-40 at milepost 57.
Construct a four-lane street along Rancho Santa Fe Parkway, north of I-40, between I-40 and Santa Rosa Drive.
Construct a four-lane street along Rancho Santa Fe Parkway, south of I-40, between I-40 and Louise Avenue.This section will include bicycle lanes, sidewalks, curb and gutter and a center raised median.
City of Kingman
Construct a two-lane street along Rancho Santa Fe Parkway, north of I-40, between Grand Canyon Road and Industrial Boulevard, near the Kingman Municipal Airport.
What to expect during construction
Work will take place during daytime hours.
I-40 traffic will be detoured on the future Rancho Santa Fe interchange ramp alignment while crews construct the new bridges over Rancho Santa Fe.
Two travel lanes on I-40 will remain open in each direction.
Motorists should be prepared for delays of up to 15 minutes.
The speed limit will be reduced in the work zones.
Schedule
Planning is underway for construction to begin in early 2022 and be completed in late 2023. More information will be posted prior to the work.
Schedule subject to change based on weather or other unforeseen factors.
Restrictions and Closures
For information about project-related restrictions and closures please visit az511.gov or call 511, except while driving.
ADOT will provide more information about project schedules and potential traffic impacts as information becomes available. Stay informed of traffic restrictions before they occur by subscribing(link is external) to traffic alerts for the project.
US 93, I-40 West Kingman Traffic Interchange Project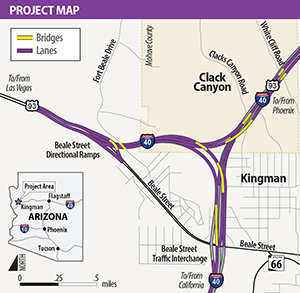 The Arizona Department of Transportation has initiated design work on a new traffic interchange that will improve traffic flow at the junction of Interstate 40 and US 93 in west Kingman.
Phase I is currently in the design phase, with construction expected to begin in late- 2023 and finish in 2025.
Design and Construction Timeline
ADOT does not have the funds to build all the improvements of a full system interchange at one time. Thus, the project will be constructed in two phases, with the ramps between Phoenix and Las Vegas constructed first. Phase II will construct the ramps between Las Vegas and California, when traffic demands warrant the improvements are needed and when available funding can be programmed.
History
ADOT has monitored the increasing traffic growth and congestion in west Kingman that has occurred over the years. The traffic volume is more than the current diamond interchange is designed to accommodate.
In 2007, a feasibility study was initiated, and alternatives for a new system traffic interchange were identified. The proposed traffic interchange design includes a free-flowing connection between the two freeways without stopping at the ramp intersection.
The new traffic interchange is being designed to accommodate both current and projected traffic volumes for this area for the next 25 years. The Final Feasibility Report(link is external) was completed, which identified a preferred improvement corridor.
In 2009, the preferred improvement corridor was further refined into a series of specific alignment alternatives. These alternatives were shared with the public and agency stakeholders where a most favorable alternative was developed. This information was completed and summarized in a Design Concept Report (DCR) in 2015.
The Final Environmental Assessment (FEA) was completed in July 2020.
This brought to you by