During Governor Ducey's State of the State Address in January, he talked about The Arizona Way. And with the COVID-19 health emergency, that saying has taken on a new meaning. Arizonans across the state are stepping up to help one another and provide support wherever needed — and they're doing it The Arizona Way.  
Here are just some of the ways Arizonans are helping others:
Arizona State University launched the PPE Response Network to link university and community resources to hospitals in need. The network has worked with Banner Health, Dignity Health, HonorHealth and other health facilities to connect them with needed equipment. Additionally, Northern Arizona University is providing Navajo Nation and Hopi Tribe residents with WiFi in select locations, providing students with access to online learning while schools are closed.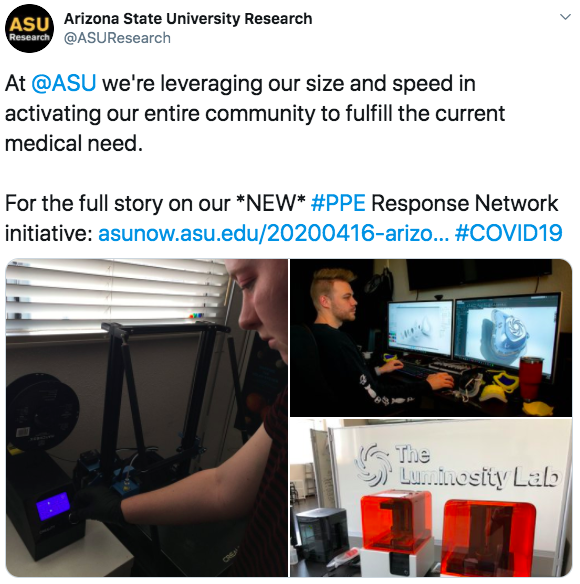 Cox Media, the advertising division of Cox Communications, is offering local restaurants free TV advertising — helping restaurants to stay open for delivery services. The Arizona Restaurant Association is using this opportunity to promote creative campaigns for restaurants.
The Wells Fargo Foundation is donating $50,000 to the Arizona Boys & Girls Club of the Valley and another $50,000 to the Foundation for Senior Living, supporting their response to the health emergency and service to Arizona's kids and most vulnerable.
Community members in Mesa set up a 'Neighborhood Chalk Project' to help kids decorate streets with chalk art and spread positivity. The project encourages individuals to come together and "be a light" during difficult times.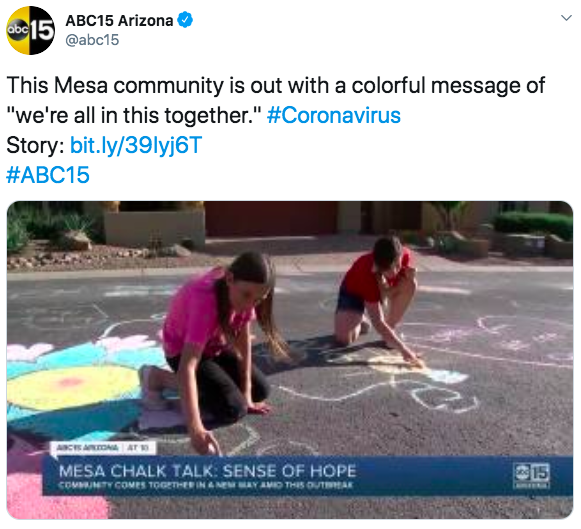 Tucsonans are donating their federal stimulus checks to local charities that serve communities in and outside Arizona.
More than 84 Domino's Pizza franchises throughout Maricopa County are donating 200 pizzas each, including delivering pizzas to more than 2,000 frontline staff members at HonorHealth's five medical centers.
Governor Ducey last month established the Arizona Together initiative, linking Arizonans to resources during the COVID-19 health emergency. As part of the initiative, the AZ Coronavirus Relief Fund provides support to organizations working to mitigate the impacts of COVID-19 in Arizona. Organizations, businesses and individuals have contributed more than $7,800,000 to date.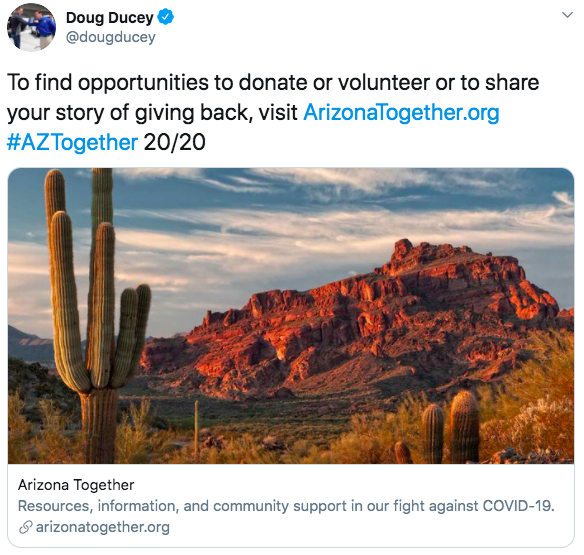 Those interested in donating can learn more about ways to contribute at ArizonaTogether.org. Organizations in need of financial support for programs that are supporting Arizonans during the health emergency can also submit their initial requests on the website. More stories on businesses and organizations helping frontline workers, vulnerable populations and businesses in need of support can be found at ArizonaTogether.org/thearizonaway.